That's what I'd like to see, in my slightly inhebriated state! More spammers getting vasectomies!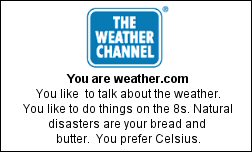 Which Website are You?
Well, it's the first day of 2007. Somehow, we all survived another year, a little bit older, a little bit wiser, and a little bit more jaded. The point is, though, that we made it. Last night, everyone started arriving at our apartment around 1930 EST/EDT. I drove out to pick up Hummingwolf from the Metro station and then headed back to make sure that everything was running smoothly back home. Lyssa had been slow-cooking a ham in the new slow cooker for most of the day, and our guests were nice enough to bring all manner of tasty things with them to help ring in the new year. Jarin had driven to Maryland to pick up the Lost Boys; Hasufin and Mika came by with many things I wasn't able to get earlier in the day (once again, my messed up sense of time struck; I didn't know that the liquor stores were closed on Sundays down here), so the party wasn't down on libations.
New Year's Eve was one of those nights where there was so much going on, I don't think that any one person was keeping track of it. Mika got a new laptop for Yule, and she spent a good bit of the night working on it to get it up to scratch for daily use. Just about everyone else made their rounds, sitting, talking, drinking, eating dinner (unlike the last party we threw, we had a good bit of real food around in addition to the junkfood one would expect), watching television, and roaming around for the hell of it.
Like most everyone else on the eastern seaboard, we watched the digits on the clocks and turned on one of the national networks to watch the ball in New York City drop at midnight. The rest of the night was spent sitting around reminiscing, polishing off the cheese platter that Lyssa had made, watching more television, lazing around the apartment.. Hasufin and Mika took their leave at once point, followed by Rab and Rhianna. The rest of us went to sleep around 0400 EST/EDT today, dead tired and not really up for much of anything more.
We dragged ourselves out of bed around noon and got cleaned up while Lyssa made breakfast, ham and eggs, for everyone. Everyone started filtering out of the apartment shortly therafter while Lyssa napped and I figured out what I had to get at the supermarket for the rest of the week.
My brain's still a little scrambled after this week. I've put my body through a lot of abuse, and I've decided that I'm going to get back into shape in 2007. I'm going to take up martial arts again, and I'm going to start hitting the gym as soon as I can.